4th Conference on Mathematical Sciences and Applications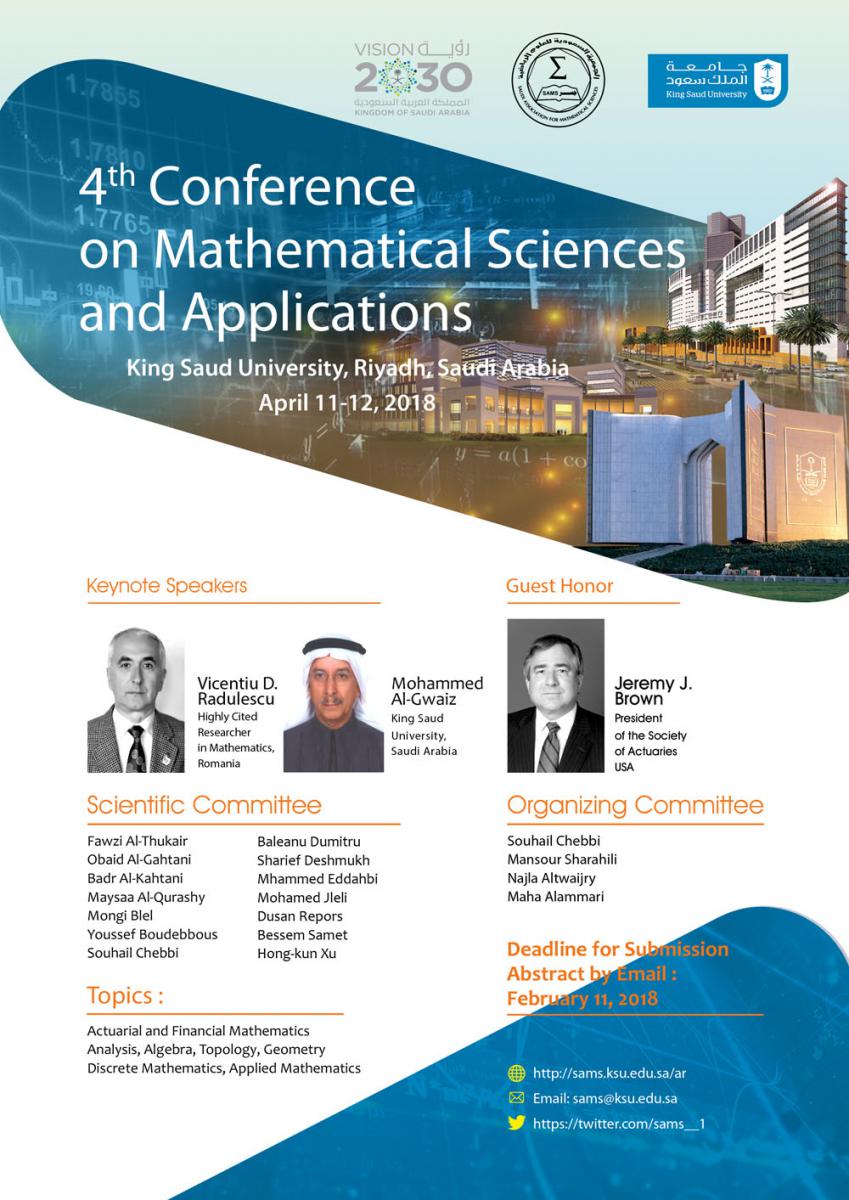 Conference Objectives
The aim of this conference is to present the latest research and results related to mathematical sciences and applications, to develop research relations and to establish global partners for future collaborations
Topics
: All topics of Mathematical Sciences and applications
Analysis, Algebra, Geometry, Topology
Discrete Mathematics, Applied Mathematics
. with a special focus on the field of Actuarial and Financial Mathematics
Submission
: You may submit your paper or abstract by e-mail to
sams@ksu.edu.sa
. Deadline for submission is March 1, 2018
Please limit the abstract to a single page in pdf form and underline the name of the presenting author.
All submissions will be peer-reviewed.
Accepted papers will be published in the proceedings of the conference on the web site of the Saudi Association for Mathematical Sciences with the agreement of the author.
Registration
You are welcome to participate in the 4th Conference on Mathematical Sciences and Applications even without presenting a paper. To register, kindly fill in the online registration form on the following link

: The registration fees are as follows
Free (Speaker, Member of Saudi Association of Mathematical Sciences, Student from KSA).
Others: 200 SR
Accommodation
: We recommend the following hotel
Al Hamra Palace Hotel
Web Site : http://www.alhamra-palacehotel.com
In case you prefer a more comfortable stay, you may make your own hotel reservation, preferably in the King Abdullah Road area or the Diriyah or Ourouba area
Contact Us
: If you need more information, please contact
. Prof. Souhail Chebbi, Chairman of the Organizing Committee, Department of Mathematics at King Saud University
E-mail: schebbi@ksu.edu.sa
Tel: +96614676308
. Saad Aldagani, Secretary of the conference
Email: sams@ksu.edu.sa
Tel and Fax: +96614676509



List of registrars in the conference